Circle K: Building a Global Bland?
With scale and synergy mastered, does Alimentation Couche-Tard's retail brand need a personality?
Originally Published in CSP Magazine
Angel Abcede, Senior Editor/Tobacco, CSP
Too Big To Fail? — Despite competitive challenges, the momentum building from Circle K's strengths is contagious. Amin Chitalwala, CEO of Gas Express, Atlanta, chose to expand his business by becoming a Circle K franchisee in 2013. In the c-store business since 1994, he and his CFO partner, Shams Nanji, now have 22 stores.
Initially opening his stores as Food Mart, Chitalwala wanted uniformity and a clean, crisp look for the sites. After researching other brands, he chose Circle K, he says, because it gives him several advantages: consistent look, global insights, significant buying power, newfound respect from vendors and the marketing and training tools to be successful.
His agreement with Circle K eventually gives him up to 45 stores in the Atlanta area, and he was appointed a regional adviser to any area operator wanting to convert to Circle K.
Admitting Circle K's foodservice program is "not extravagant," Chitalwala appreciates its simplicity and calls it "easy to manage." He has been privy to Circle K's test kitchens and is launching Krispy Krunchy Chicken through a Circle K program, but he believes he'll have to expand his internal foodservice team in the future if he wants to go further.
Chitalwala likes hearing about Circle K's acquisitions. The bigger the footprint, the stronger the brand, he says. More important, he appreciates how Circle K is also an operator, able to bring him firsthand experiences and solutions.
"They're an efficient and well-run organization," he says. "They gave me a platform to grow."
With 13% of Circle K's portfolio being franchised or "other affiliated" stores as of its fiscal 2015 report, franchisees are a smaller aspect of Circle K's growth strategy but still a viable one. Jeff Kramer, managing director for NRC Realty & Capital Advisors, with corporate offices in Phoenix and Chicago, says a franchisee model shifts costs such as health care and other regulatory expenses to those independent business leaders. That said, growth via acquisition is one of Circle K's most successful strategies.
This includes overseas, where Circle K has been quite active. Its recent acquisition of Dublin-based Topaz and its 162 company-owned and 302 dealer-operated locations drove analysts with BMO Capital Markets, Toronto, to improve their projected stock price for Couche-Tard to $66 from $64, which five years ago was about $30. (At press time, the price was $60.50.)
More activity in the area "would further validate the European rollup thesis," according to a BMO report from analyst Peter Sklar, who then rated the shares to "outperform." (See acquisition timeline below.)
Many industry experts say that on a per-store basis, Circle K is a good, not great, performer. But its strength lies less in rivaling the Sheetzes and QuikTrips of the world. Rather, Circle K's muscle is in incredible store count, operational efficiencies, unit density in core and growth markets, and the ability to tweak its retail just enough to keep consumers interested.
"They're a good example of how well scale works," Kramer says. "They have been able to reduce overhead and simplify systems to make their acquisitions work, where being a stand-alone company might not be as efficient."
"Wall Street loves Circle K's balance sheet, and they're shrewd operators," says the consultant, describing the company's decentralized structure—while not ideal—as a "stable" model. "
To continue down this road of dipping your toe in the water on foodservice will be a risky proposition, but in the long term, they will figure it out."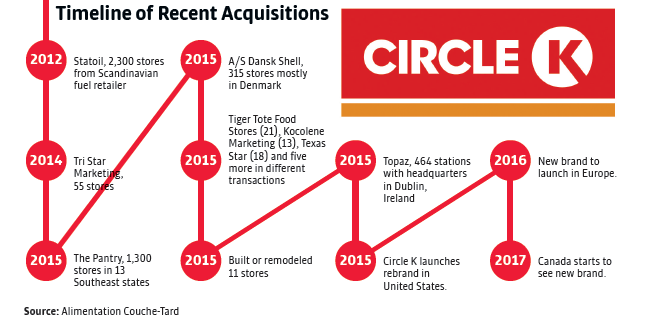 $1.02 billion — Couche-Tard's net earnings less acquisition expenses in fiscal 2015 vs. $766 million in 2014
14,900 — Number of stores globally
Source: Google Finance, February 2016; Alimentation Couche-Tard